At Toyota Marin, we always maintain a large inventory of Genuine Toyota parts to meet all of your service and body repair needs. If we dont have what you are looking for we can always order from Toyota Motors and have your parts the next day. All of our Wholesale Parts Professionals are Toyota certified to help you with all of your needs. We deliver to all of Marin County and can also ship parts to you if you aren't in our delivery area.

With the assistance of Toyota Motors, as an ELITE STAR Toyota Parts Department, we offer online parts catalog and ordering to all of our Repair and Body Shop clients. Click on the Toyota Wholesale Parts Dealer Portal to see all of the benefits and information available to you. Along with the online catalog and ordering, registering gives you a wealth of Toyota Vehicle knowledge. Like maintenance schedules, the benefits of Toyota Parts and so much more. The Toyota Parts & Service website is here to make ordering and selling as easy as a click of the button. 

Also, If you become a Preferred Toyota Marin Partner*, we'll send you email alerts whenever we have special offers on any of our inventory for our wholesale customers. Just fill out the form to join.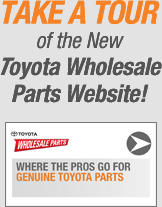 Click "TAKE A TOUR" TO CHECK
            OUT THE WHOLESALE WEBSITE

Parts Direct  (415) 578-7749                      
Parts Fax (415) 457-8576
Email    parts@toyotamarin.com 
 
Parts Hours: Monday - Friday 7am - 9pm 
                     Delivery available Monday - Friday                     
                     Saturday 7am - 6pm                                      
                     Sunday 9am - 5:30pm