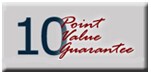 We stand by every vehicle we sell with our Toyota Marin
10-Point Value Guarantee:

1. You will always get our Very Best Price, upfront.
2. Your Price will always be Below the Manufacturer's Suggested Retail
Price.
3. All Vehicles 3-Years Old or Newer are Priced Below Kelly Blue


Book.
4. Every Vehicle comes with a 3-Day/250-mile Money-back Guarantee.
5. Every Vehicle comes with a 7-day/700-mile Exchange Policy.
6. Every Vehicle comes with a Free 119-Point Annual Inspection.
7. Every Vehicle, as long as you own it, will be towed Free to Toyota


Marin, within 25-Miles.
8. We will buy your Used Vehicle, within 7-days of appraisal, whether


you buy from us or not.
9. We will give you a Loaner Car at No Charge for any Service repair


over $400.
10. We provide Free scheduled Shuttle Service to all Customers.
.